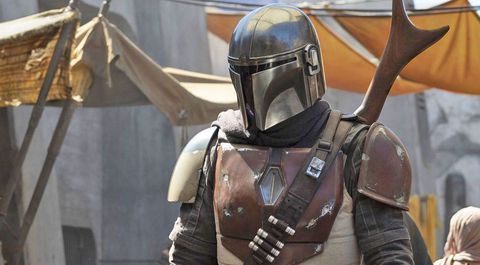 Due to the streaming war that is headed our way, We are getting a surge of upcoming tv shows. One of them is the long-awaited Star Wars live action television series. Given the epic nature of the franchise, a live action series may have been deemed as "unfilmable", but after series such as Game Of Thrones, Stranger Things, Westworld, we now know what is possible to be put on our tv screens(likely cellphone screens as this show is only available on Disney+) The Mandalorian was an exciting prospect as this isn't a story the franchise has told in the mainstream. You would have to read the novels and other extending material for that. We follow the titular character as he hunts down a bounty in a galaxy set two years after Return Of The Jedi. While the premise may be deemed as simple, it is needed as the first episode sets up a lot of world building. We are introduced to new characters, and our titular hero has a backstory yet to be explored. I mostly consider Jon Favreau as a director, but he has some great screenwriting chops.
Pedro Pascal is captivating to watch as our masked hero. We never see his face, and I'm good if we never do. I got a Clint Eastwood western vibe off his performances, which fits the tone of the series. The other performances are great, but we don't get to spend much time with them. Nevertheless, Carl Weathers, Werner Herzog, and Taika Watiki make it up with their interesting characters.
It is visually beautiful, reminiscent of the original trilogy that The sequel trilogy abides by. The visual effects are of cinematic quality. The mix of practical and digital effects are seamless. I love that they are using puppets rather than CGI to create the different alien species.
Dave Filoni has a bright future behind the camera as a live action director if he so chooses. He is known for his work in Star Wars animated projects, but his passion for the franchise shines through here. The action is exciting and filmed with such energy that you won't want to take your eyes off the screen.
When it comes to epic music, Star Wars always brings it. As John Williams is done with the franchise, We have Ludwig Göransson giving up a score, reminiscent of a classic western feel, while still being Star Wars.
All in all, The Mandalorian is cinematic television packed in 30 minutes that will undoubtedly take the world by storm, making you wish you could binge it. 10/10